What is a Coffee Table Book?
A coffee table book is an illustrated book, with colorful photos or artwork. These books are extremely attractive and are meant to be kept on table tops, so that anyone interested can get their hands on them and go through them. These books are usually meant for casual reading, people can browse through them while having a cup of coffee, hence the name. These books are mostly in the hardcover format, and the pages consist of blocks of texts, quotes and a good number of photos. They usually don't have long paragraphs in them.
There are various types of coffee table books, to name a few — coffee table art books, coffee table photo books, coffee table picture books, coffee table photography books and luxury coffee table books.
How to Make a Coffee Table book?
Before understanding how to make a coffee table book, we need to know, what is the purpose of Coffee Table books? People who love expressing their areas of interest through photography, paintings or artwork communicate their stories better with Coffee Table books. If you're someone who loves intimating stories with the help of pictures, you can become an author of Coffee Table books too. So, collections of photographs, artwork and paintings constitute a Coffee Table book and hence, to make one, these are the primary building blocks for these kinds of books.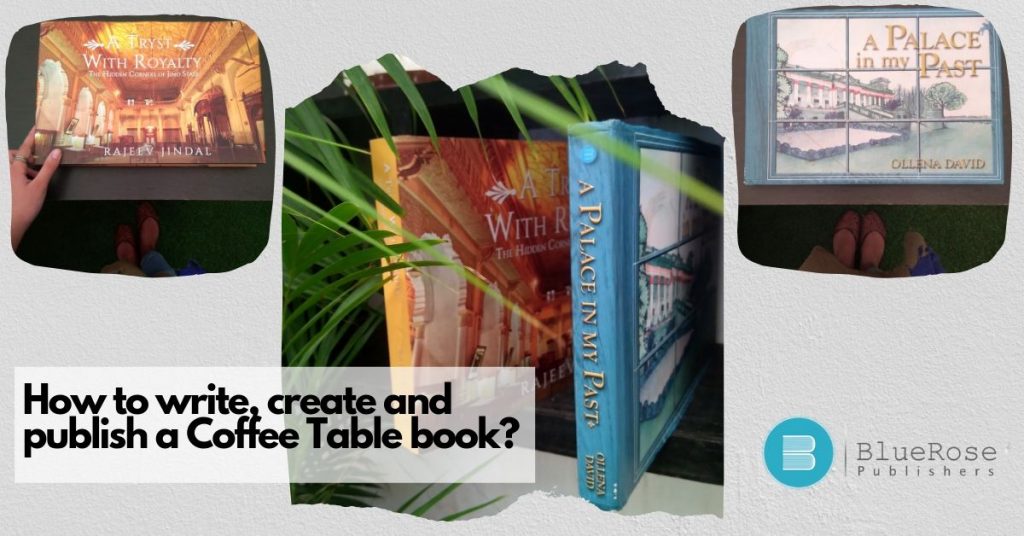 Self-Publishing coffee table book in India.
How to Publish a Coffee Table book?
The first step towards creating your own Coffee Table book is by working on the theme of your choice, the theme could be paintings, artwork or photography. Once you have decided what theme to work on, pick your favorites from the collection of these photographs and think over the kind of design or layout you would like for your book, the implementation of which will be taken care of by the Publisher. This is a brief introduction on writing your own Coffee Table book. Therefore, in summary, when you have a decent collection of photographs and a design in your mind, you are ready to publish your Coffee Table book
Read: How to self-publish a Bengali book? A beginner's guide from 1 to master.
Coffee Table Book Publishers in India
Once you are done with framing the outline of your Coffee Table book by collecting the photographs and working on the theme and design, the next step would be to look for a Publisher who will help you bring out the beauty of your story. 
In India, you can either approach a Traditional Publishing House, or choose to get it published through a Self-Publishing House.
 Traditional Publishing Houses offer great packages for designing, printing, marketing, and distribution, but it requires a fair amount of monetary investment and the process of signing the deal is complicated and time-consuming. 
Moreover, the rights of your collection and work is shared with the Publisher. On the other hand, Self-Publishing Houses are more about getting your book published with complete control over the package you choose, the designing process, the marketing, and distribution. Compared to Traditional Publishing Houses, the cumulative cost of publishing in Self-Publishing is relatively lower. The major reason behind the same is that you can directly approach the latter with no involvement of any middlemen. 
The Print-On-Demand option in Self-Publishing is not just cost-effective, but also saves paper. Also, by opting for Print-On-Demand, and getting the freedom to choose the quality of the paper via Self-Publishing, you are automatically reducing the cost of your book. 
Moreover, the time taken in getting your book published is a lot slower than the time taken in Traditional Publishing Houses. These benefits make Self-Publishing the ultimate choice for you when publishing your own coffee table book.