While being a writer is an enigmatic journey, sometimes our environment makes it difficult for us to bring out our element. We need a certain atmosphere to let go and write like a free bird.
In this high-tech world, the best creation of man is Café. Four-walled coffee heaven with a serene environment to be peaceful. And we are not just talking about Starbucks or Café Coffee Day – we are talking about book cafes – a place that it heaven to us.
Shall we look at some writers book cafes where you can visit to find your aesthetic peace?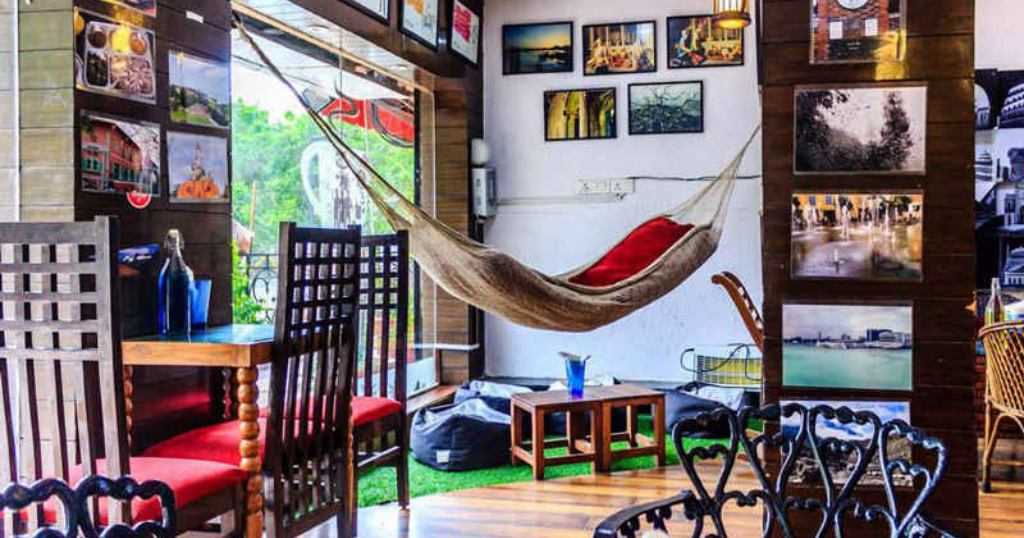 DLF Galleria, 1st Floor, 53&54, DLF Phase 4, Gurgaon.
As the name suggests, this café is a haven for wanderers. It gives you peace, aesthetics, and well food. It will give you the feel of sitting on a beautiful patio with a coffee and your diary where no one will harm your imagination bubble and you'll be free to write.
From breakfast platters to snacks around the world – Café Wanderlust is the place to enjoy it all.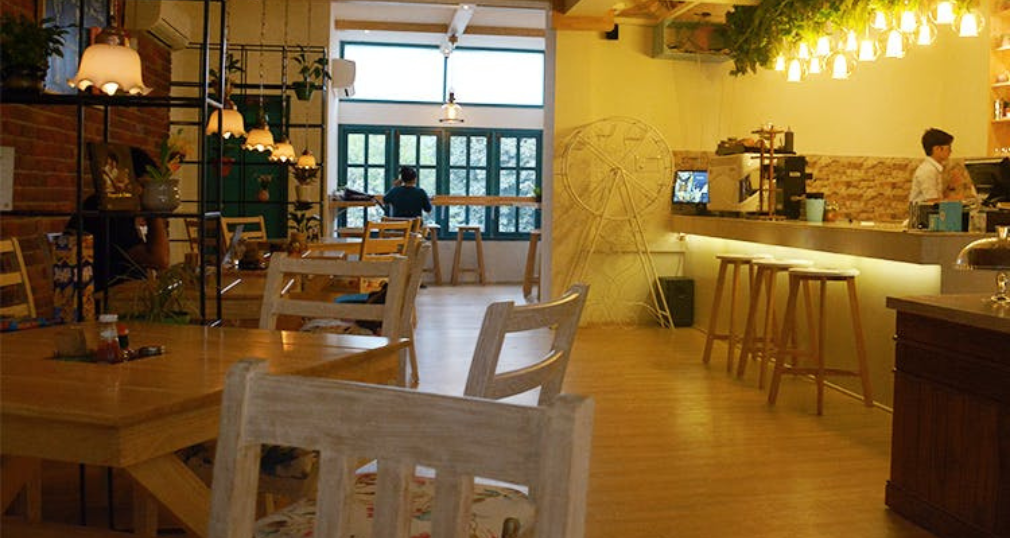 Hauz Khas, Delhi
A beautiful artistic place is a place called the Brew Room. The café gives out light aesthetics of Dark Academia for which every writer/reader is a sucker. The beauty of this café is it gives authentic handcrafted special coffees, board games, and the most delicious wood fire pizza.
The smell of coffee and laptop – a perfect combination to let go and write it all.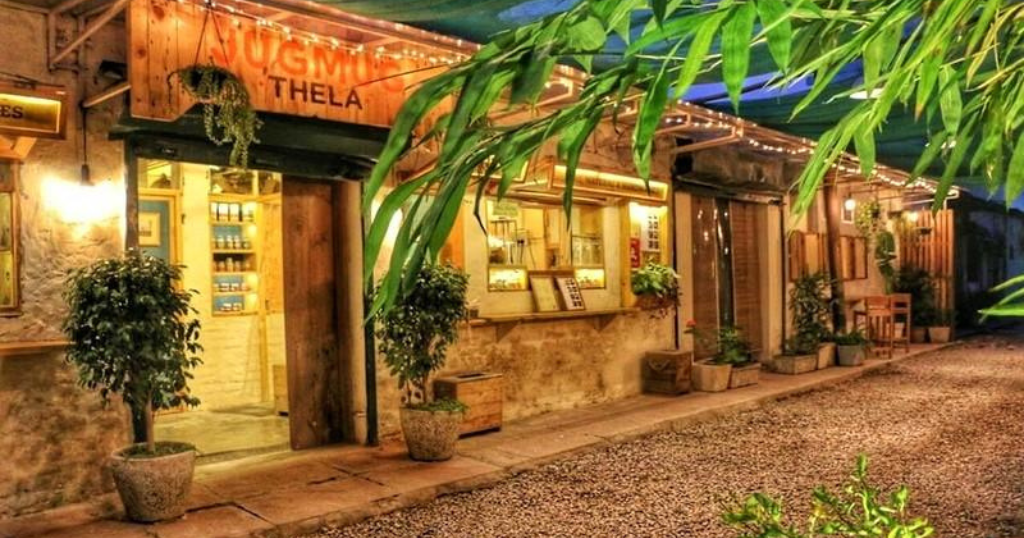 Champa Gali, New Delhi
This café is a dream for sure. In a beautiful reading room opposite the main café, read, write, and brainstorm with their special handmade biscuits, the special Vietnamese Ice Coffee or 12 Ingredient Masala Chai. Feel of Italian café and beautiful streets, it is must to visit café if you want to explore some new authentic places.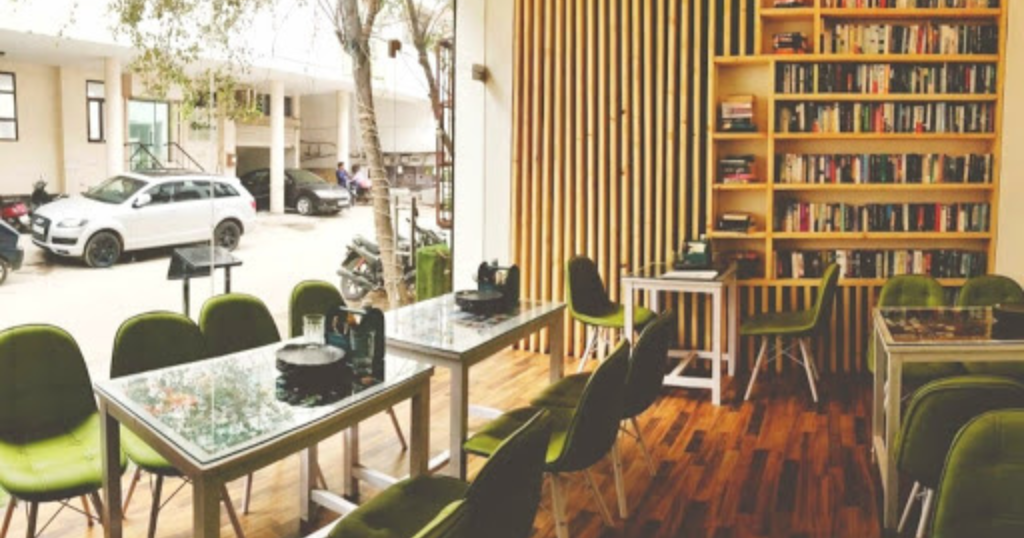 Sainik Farms, Delhi
Grilled sandwiches, hand-tossed pizzas, a selection of fries, and Indian tandoori delicacies are on the menu at this new cafe at Sainik Farms. But the best part is they have a large library with over 1000 books, and for every 500 rupees spent at the cafe, you get a free book.
A perfect place for a literature lovers, isn't it?
5. THE TEAR ROOM FROM BLOSSOM KOCHHAR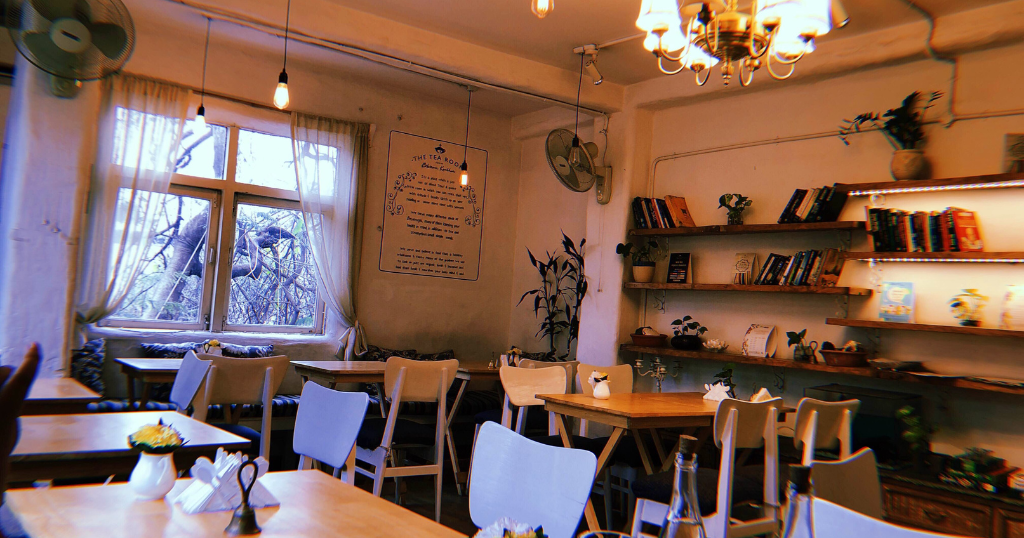 Hauz Khas Village, New Delhi
The Tea Room From Blossom Kochhar, located in the Hauz Khas Village bylanes, is one of our favourite locations to read for hours on end. They have an interesting assortment of drinks and healthful food, a fantastic book collection, and soothing music that matches the gorgeous view of Deer Park. Visit during the week, for breakfast, coffee or brunch scenes as during the weekends it gets crowded.
The cafe itself is very beautiful and has only the best vibes.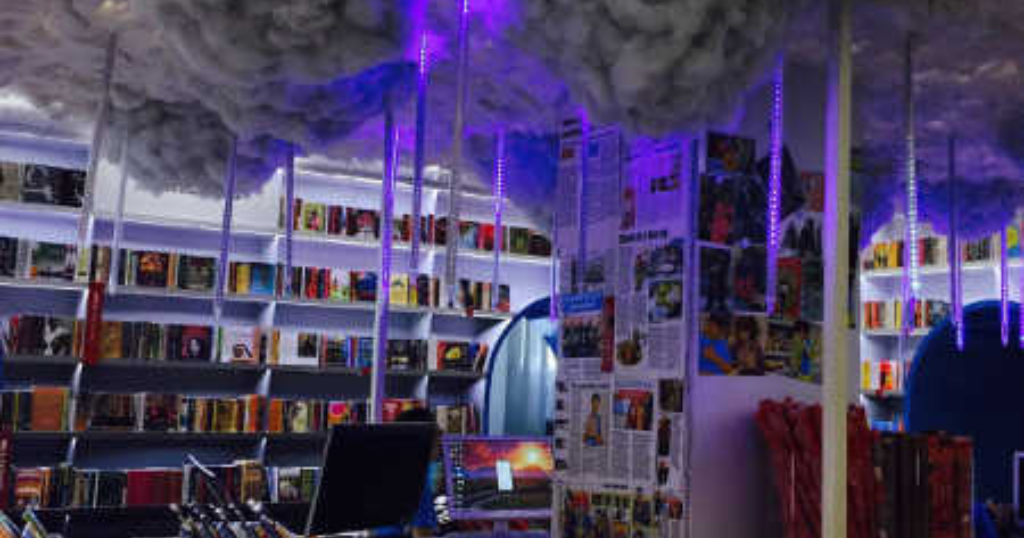 N 81, Oxford Bookstore, Connaught Place (CP), New Delhi
There's nothing you won't find here, from literature to soothing beverages to delectable dishes and more. They have around 60 different kinds of teas along with the most delicious mouth-watering food. It's one of the top book cafes in Delhi and a popular Instagram destination. Every Delhiite, bibliophile or not, should go at least once.
Some dishes you should try for sure – are Tiramisu, Kadhai Chicken pizza and so much more.
7. MAY DAY BOOKSTORE & CAFÉ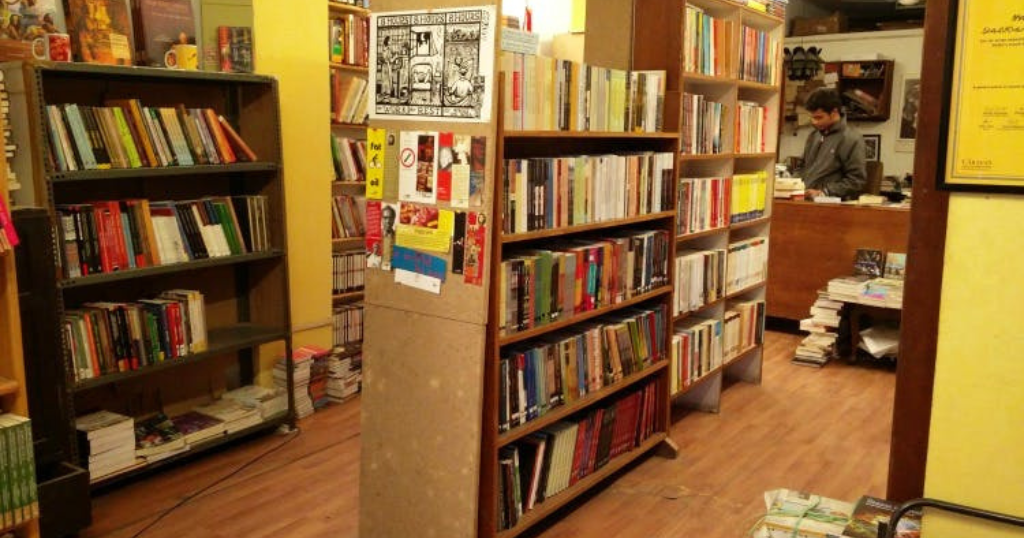 2254/2A, Ground Floor, Shadi Khampur, West Patel Nagar, New Delhi
An overwhelming assortment of books (fiction, non-fiction, political), yummylicious food, and a theatre in the next room for plays and other fun activities. It's cosy, personal, and a haven for readers, writers, philosophers, and art lovers.
What is there to not love… Just wow! And you won't know unless you try.
8. ANOTHER FINE DAY CAFÉ & READING ROOM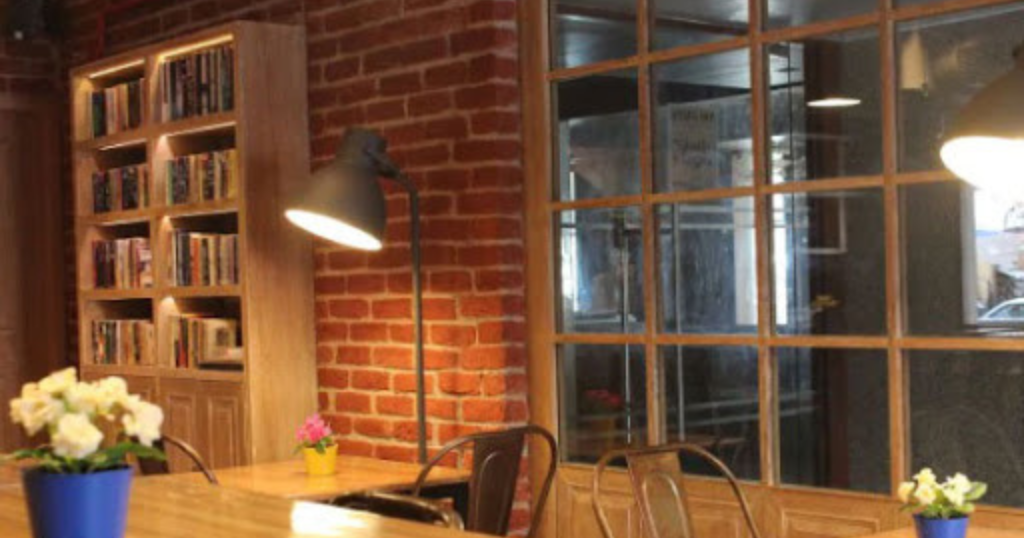 MPD Tower, Golf Course Road, Sector 43, Gurgaon
With very adorable and wood-heavy décor, this is one cafe for anyone whose coffee and book date doesn't stop there. The place also serves beer and wine, so if you prefer a great glass of wine over coffee to accompany your reading, here is the spot for you! In addition to literature, they have a selection of board games to keep you entertained.
You have to make sure to taste their all-day breakfast buffet and delicious shakes.
9. SAKLEY'S MOUNTAIN CAFÉ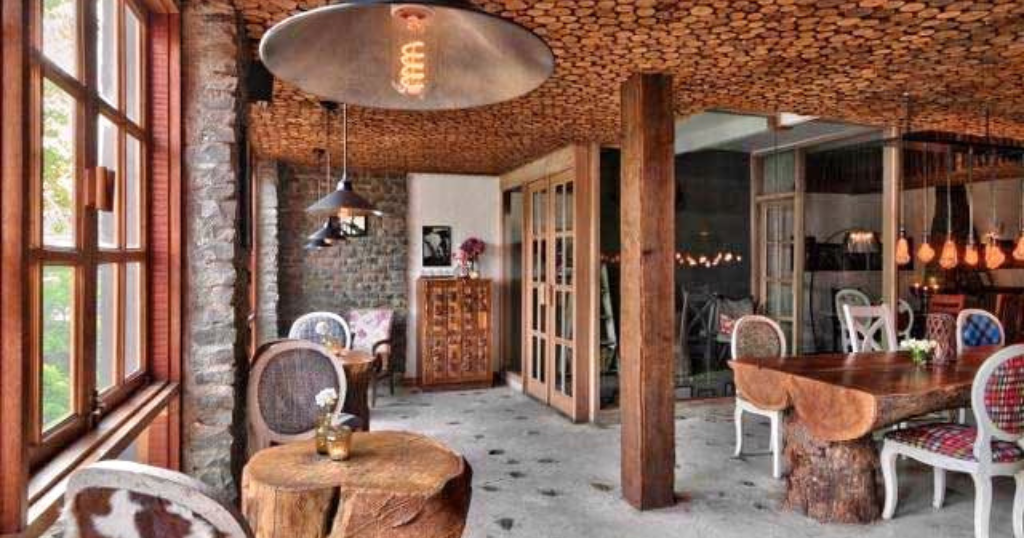 GK 1 M Block Market & DLF Galleria, DLF Phase 4, Gurgaon
If you are a sucker for natural light, this place is for you! Sakley's, located right in the heart of the vibrant GK 1 market, will transport you to a hill station, replete with wooden furnishings, sunshine, and vegetation right outside the windows. The vintage design, wooden candle stands, armchairs and simulated fireplace will undoubtedly remind you of old-world charm.
The best aspect is that they offer a modest library where you can choose from largely travel-related books.
Read: Traditional publishing vs self-publishing (Full comparison)
These places are one of their own kind. Each place has a different aesthetic, a unique vibe with something that makes you lure into their world – no! they don't hypnotize but they are just so beautiful.
So why don't you try them out one day and let your spirit of writing free to gain as much as it can so you can have a BANGER IDEA! for a book. Till then…
Αντίο!