The biggest barrier to writing is being stuck on the idea of 'what to write now?'. Many a time, you must have felt this question burdening you to an extent that you wanted to stop writing all at once.
Writer's block is the inability to figure out what to write or how to begin writing – it usually is the biggest hindrance that a writer faces while working on a project?
Read: See how you can promote your book through video trailer!
What causes writer's mental block?
Each writer has a different style of writing and genres they write in – the block sometimes hinders the process of creation.
Sometimes writers have the idea but their minds cannot phrase what they want to write and sometimes they just don't know what to write at all.
While writer's block is frequent among authors and creative, some specialists believe it is a myth and not a psychological condition at all.
The reality is that writing is a demanding mental activity that entails unfavourable characteristics such as experimenting, uncertainty, and vulnerability.
It is observed that writing "takes more hard-core, cognitive exertion than many other lines of work", which is why most authors struggle, and not because of an inspiration-draining inhibition.
Writer's block can occur because of internal and external factors; factors as fear, perfectionism, self-criticism, environmental disturbance, etc.
Being a writer is the biggest critic of themselves, they often go too hard making them lose motivation and the flow of writing. Being too hard on yourself can often end up making you feel lost which can become a barrier in the writing process.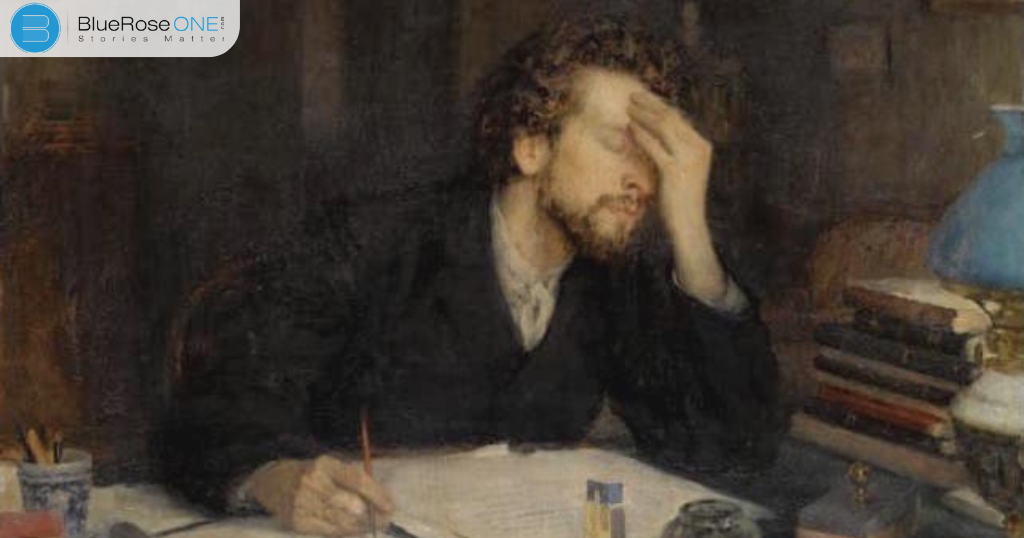 How to overcome writer's block?
Everyone is different and each writer has a different style of writing and tackling the block. While some just wait for a while till they get a new inspiration to write, some just feel lost and frustrated.
There are different ways of working out or around the writer's block, they won't help you overcome it entirely but they can become a contributing factor that can help you grow out of that block in a productive way.
 Here are some generic steps to get over writer's block:
WRITE FREELY – FORGET STRUCTURE
Some people plan out the entire structure of the book and then get stuck in between. A popular writing exercise is free writing or writing without rules. Begin writing down any thoughts that come to mind, without editing or censoring. The goal is to let your imagination run wild. This will help you open your mind and let those thoughts flow through your block.
ENJOY THE PEACE
Writer's block doesn't always have to be a negative thing. The break from the writing sessions can be a good thing for your haywire mind. Just relax till the ideas flood in and just be a bit laid back.
STAY AWAY FROM THE NOISE
We live around traffic, markets, and cities. It can get noisy a lot and can even disturb you. Try to create a distraction-free environment for yourself. This applies to both your physical and mental space. Turn off all notifications, go offline if possible, and notify co-workers or family members that you have office hours if you work from home.
SCHEDULE MIXUP
Changing up your work pattern can help you overcome writer's block, even if you're a self-proclaimed morning person or a night owl. By doing that, there are chances that you find a new rhythm to work and even new ideas. It is often said that individuals who "feel more productive in the daytime hours" are actually better at creative problem-solving in the evening. Those who claimed to be more attentive at night had the opposite effect.
STOP BINGING, BING!
Staying late nights or entire days to binge-watch a show or movie series can often take a toll on you. It hinders your sleep pattern and makes you tired. Keeping your mind and eyes from the screen could help you take your mind off extreme sleepless patterns.
JUST BE YOURSELF
Trying to avoid something would make you fear the block more. Don't stress yourself more because of it. It is just a phase and you'll get over it before you even realise it is there. Having writer's block is something that is normal. Overthinking this fact could make you more tensed. Divert your mind, invest that time somewhere else. Just be creative and leave yourself.
Being stuck at a point while writing isn't bad.
Read: How should you market your first book? (Complete-Guide)
It is just a way of your mind to tell you to calm yourself and give yourself a break. Embrace your writer's block in a way that it could a boon to you rather than a bane.
Чао!