Want to learn how to format a book? Writing and Printing has yet another step in between. Formatting also know as typesetting.
What is Formatting/Typesetting?
The format of your manuscript determines how it appears and reads. Font size, page colour, word count, page number, line spacing, paragraph breaks—everything that contributes to the overall visual appearance.
Formatting has a big role in the interior of your books other than images or other added clip-arts. Additions of these things makes your interior look better than just the usual word document. It also determines the exact page count of your book which will help you in deciding your MRP in further stages.
There is no firsts or seconds in the process but we have to start from somewhere to begin the process. So here we have put together a small tutorial for you to try and format your book yourself.`
Set the page size
Before adding anything change your book size to the chose format. It could be landscape book, classic novel book, workbooks, etc. – according to this you will change the dimensions of your layout. The default page structure is A4 in the word document. Here in the tutorial we have selected a classic book size i.e. 5*8 Inch.
Setting the page size first would help you understand what is exactly the page count, also how much you can play with the font to keep within the desired page count. Under this step, you need to set the margin space from all four sides to keep it all aligned and symmetric.
Font Change
Now that your interior pages are laid out; next step is to change the fonts.
Don't keep the fonts same as it would create a monotonous effect. There are many pages before your story starts like Acknowledgement, Dedication, Preface, and Prologue; Epilogue, Author's note at the end. Try to create a differentiation by using different fonts.
Use different font for the content and for heading. Use tools like Bold, Italic, and Underline to make it pop out. You can use fonts like Bell MT, Baskerville Old Face, Times New Roman, Arial, Algerian, etc.
Keep your story and the titles of the chapter in two fonts – one for title and the other for the content.
Font Size Change
Change the font size of the content 12-14 depending on the need of the content, and the titles 16-20. You can change the font size later after the entire formatting is done if you want to increase or decrease the page count or clarity.
Page Breaks
Once you have set these things mentioned above, add page breaks. Adding enter to start your chapter from a new page would complicate your settings. Add pages breaks (ctrl+enter) between two chapters to keep it simple and easy to understand.
Add Page Numbers
When you add the page numbers, make sure to keep the font size of the page number 2 pts smaller than the book content. For example – if the content size is 12 pts, the page number should be 10 pts.
Add Section Breaks
Add two pages and change the page numbering from the page where your content starts and then add the front pages containing – Book Title-Publishers name and copyright's page which has your ISBN number, MRP, and other details.
All of the above factors contribute significantly to the visual appeal of your book. Anything out of the ordinary stands out. It would be a bet on your book's success.
Read: List of 10 most popular children's story books of all time.
You can experiment with the font of the chapter headings to demonstrate your individuality. On each page, you can include a small symbol or graphic image that could become your trademark symbol.
If your book falls into a specific genre, you can also include illustrations in the book to pique your reader's interest and provide them with better images to imagine the story they are reading.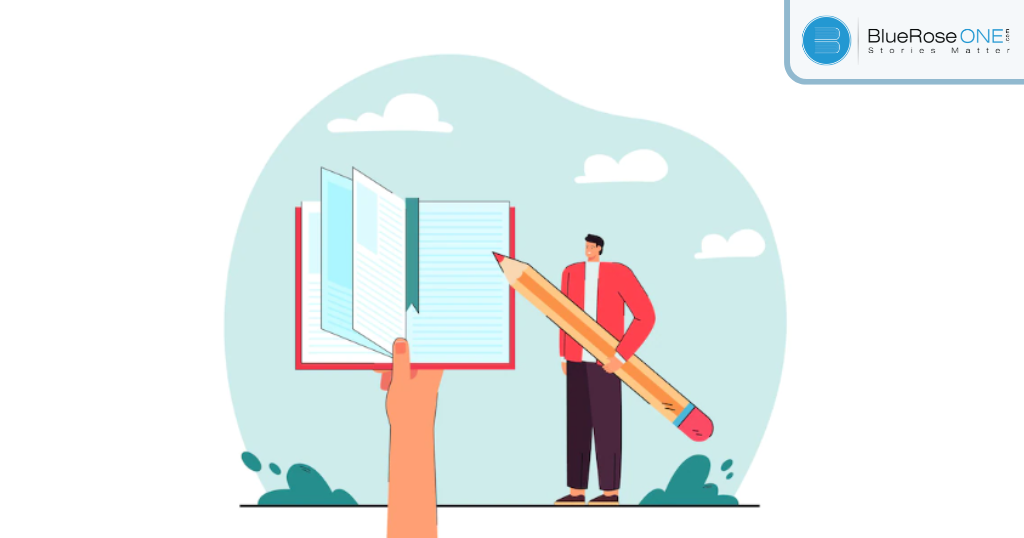 How much does it cost to format a book?
Only professionals format books correctly, and if you want your book to look like the best version of your work, money becomes a consideration. You can hire freelancers who specialise in book formatting or do it yourself by watching this video on our YouTube channel – Click here to watch.
Read: Learn how to create and publish a cookbook for free in 2022?
You can add formatting to your package through BlueRoseONE and stop worrying about your book. To summarise, the interior design and formatting of your book are critical components of the book publishing process. Pay attention to the smallest details, and you'll have the perfect edition of your book in your hands.