"Kamon aacho? Bhalo aacho?" (How are you? Hope you're doing well).
The Bengali language, or Bangla language (as the locals say), is very sweet and soothing, immersed in rich, old literature. Most people from Bengal are avid readers and writers, given the wealthy culture and literature of the City of Joy, also the birthplace of one of India's favourite writers — Rabindranath Tagore. Given the passion and devotion that Bengal holds towards literature, it is natural for most people from the city to be inclined towards writing. If you are also one of these individuals, trying to relive the fortune of Bangla language through your own work, looking for a publisher can be a tough task as most seldom promote regional languages. 
Nonetheless, many Self-Publishing Houses like Blue Rose Publishers are dedicated towards maintaining the beauty and legacy of regional languages.
Read: How should you market your first book? (Complete-guide)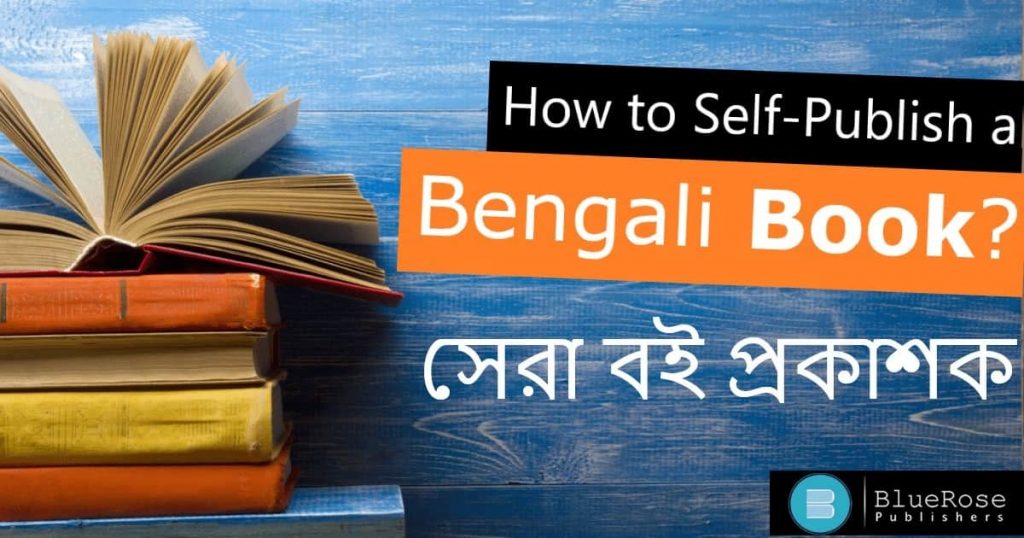 What to do when you have a Bengali manuscript and you want to publish it?
The process of publishing a bengali book starts with the completion of the manuscript. So, you've put in your hard work in writing your story/poem/collection of quotes, correcting and completing your manuscript, and then you're hit by the real question: what next? 
In this blog, we will discuss the step-by-step process of how to get your Bengali book published. 
The basic idea that most of us have about publishing a Bengali book is by following the conventional way, that is, approaching a Traditional Publisher. It is, indeed, an easy way of getting your book published, but it is not the only or the best way to do it. Getting published with a Traditional Publisher has its own pros and cons, but to be specific, there are more cons to it, until you are a Sukumar Roy or Sarat Chandra Chattopadhay. 
When as a writer, you are not a well-known personality, you will face numerous challenges while trying to get your book published through a Traditional Publishing House. Getting your book published through Traditional Publishing is a time-consuming and lengthy process. 
Moreover, most Traditional Publishers aim to brush past regional languages since that limits the reach of the book. 
Therefore, through this blog we will try to understand the process of Self-Publishing a book in Bengali.
Self-Publishing in India
Before you know how to publish a book, you should have a little idea about what Self-Publishing is. In brief, a Self-Publishing House is an almost opposite to Traditional Publishing Houses. It is a process which starts with the author, and ends with the author; the author has complete control over deciding what to publish, when to publish and how much you want to spend for it, guided by a complete team of Consultants, Publishing Managers, Editors, Designers, etc. This is the future of publishing a book.
Now, when you have decided to publish your book, let's learn how to do it. We will start by,
Making a list
The first thing to do after you have completed your manuscript is to make a list of Publishers who publish books in Bengali. After going through the options that are available, choose the best suitable for your book(s). Once you have made the choice, the next thing would be to contact them.
Choosing the right package
After your search for a Publisher for Bengali books yields results, and you have chosen the Publisher you want to approach, there are certain things you should keep in mind — one of them is choosing the right package.
As you approach a Self-Publishing House, you will become informed about the packages and services they offer. Although they will certainly help you out in finalizing the package, you too should be clear about what's best for your book. This will certainly help both you and the Self-Publication company, in finalizing the most suitable services required for your book. 
The packages include services like, editing, cover design, choosing the quality of paper, online as well as offline promotions, and other such activities that comprise under the publishing of a book. It is advisable to choose a package that is best suited to what you think is best required for your book, keeping in mind the budget and amount of work you are ready to put in in the process.
 After this selection is done, you can sit back as your Publisher keeps you in the loop about approvals at each step.
Summary
This blog gives you a brief introduction to Self-Publishing and the process of publishing a Bengali book. 
A major thing to keep in mind is that Self-Publishing gives the author full control over the process of publishing their book(s). 
Have faith in your story, choose the packages wisely, promote your book through the right channels with the help of your Publishing House, and there is no doubt that your book will shine for sure.