Thinking to publish a book in Gujarati Language? Gujarati is an Indo-Aryan language that is part of the Indo-Iranian group of Indo-European languages. Religion, caste, ethnicity, profession, and education differences combine with regional differences to form a complex system of language variants in which strong dialect boundaries cannot be drawn. Linguists, on the other hand, have identified two broad types of dialects.
The first is based on phonological differences: some tribes employ a "tight" phonation, with an elevated larynx, while others use a "murmured" phonation, with intermittent lowering of the larynx. The second dialect pair is based on ethnicity, as there are major differences between Parsi and Bohra speakers.
The saint Mira Bai, who lived in the first part of the 16th century, is by far the most famous of the bhakti poets. Mira Bai, while being married to a mortal, considered the god Krishna to be her true husband. Her songs, which describe her relationship with her god and lover, are among the most heartfelt and poignant in Indian literature.
Gujarati is a more than 1000-year-old language that is spoken by more than 55 million people globally. Gujarati is spoken outside of Gujarat by Gujarati migrants in various other countries of South Asia, particularly in Mumbai and Pakistan (mainly in Karachi). Gujarati is also extensively spoken in many locations outside of South Asia by the Gujarati diaspora.
The Gurjars, who lived and ruled in Gujarat, Punjab, Rajputana, and central India, spoke Old Gujarat (1200 CE-1500 CE), the predecessor of contemporary Gujarati and Rajasthani.
Gujarati is one of India's twenty-two official languages and fourteen regional languages, as well as one of Pakistan's minority languages. It is officially recognised in Gujarat and the union territories of Dadra and Nagar Haveli, as well as Daman and Diu.
According to William Tisdall, a British historian and philologist who was an early scholar of Gujarati grammar, there are three major variations of Gujarati: a normal 'Hindu' dialect, a 'Parsi' dialect, and a 'Muslim' dialect.
Easiest way to publish a book in Gujarati Language.
Do you have a story to tell? Do you want to be a self published author? Is language a problem for you? Don't be alarmed. I have a solution for you.
Here are a few pointers to help you select the finest publishing house for you:
Prepare your manuscript:
Understanding the demand for your manuscript will assist you in determining what services you will require. Do you need assistance with editing? Is reworking absolutely necessary? Do you require the services of a professional? Do you require something to be reviewed? Once you've assessed the demands of the paper, write everything down and go on to the next phase.
Send queries to several publishing houses:
Visit the websites of various publishing houses and submit any questions you have about the methods and packages. It will help you comprehend what they have to offer. Take notes and understand everything since it will aid you later in your studies. There are numerous national and regional publishing houses with effective methods and bundles.
Compare and select:
Now that you have all of the information, you can determine what is best for you. What is reasonable, fashionable, and healthy and will assist you at every step of the way? Which publishing house will be there for you every step of the way, even after the book is released? A Gujarati publishing house would be more aware of the importance of your narrative than a worldwide or national publishing house.
Begin the publishing process by contacting your selected self publishing house.
Discuss everything with them before signing a contract to kick off the procedure. Keep up with the process and revel in the excitement of becoming a new self published author. 
Make sure you understand what you need on your cover page, your book's category, and who your target audience is. 
Listed below are some of the Gujarati Books self published by BlueRose Publishers:
Doctor Yagnaseni by Arwind Ray
This novel depicts the mental and real journey of a doctor. This work is purely fiction and any resemble to any one is mere a coincident. I have tried to depict good and bad events and characters, not to be didactic but to express in suppressible intuition to depict the discriminations prevailing in the society. The existence is not futile but a chance to get unlimited joy. Though India promotes the tradition of salvation through stoicism, it also sings the erotic songs. When a man becomes human and starts to look at others with love, it ultimately creates a strong society.
The saints, monks, scholars and leaders need to know the people. The stale and meaningless rituals, rites and traditions must be abjured. All that do not fit into the contemporary lifestyle are to be abjured. Women should be encouraged live their parasitic lives and fight against all the factors that give them cry and weeping. The life is to enjoy, not to shed tears.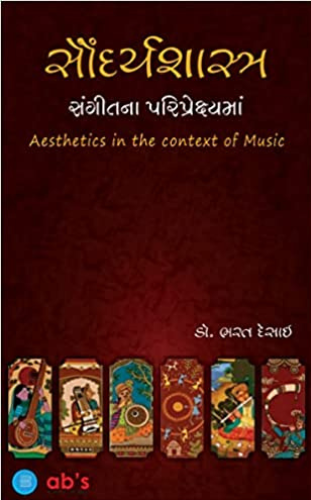 Aesthetics in the Context of Music by Dr. Bharat Desai
The first section of this book gives an insight into both the worldly and the supernatural. At an early stage, book establishes the relationship between beauty and art and says that Art and Beauty have a direct relationship, where there is art, there is beauty. With the realization of joy and expression of the soul what man creates is an art. Whether Beauty is Subjective or Objective? The thing is so beautiful because it gives pleasure? Or It gives pleasure because it is beautiful? The answers to the most controversial questions like these are also discussed in this section. The second section deals with aesthetics, especially from a musical perspective. At the beginning of this section there is an interesting analysis of the Beauty of Music in terms of 'Physics', then in terms of 'Western Aesthetics' and finally in terms of 'Indian Aesthetics'.
Create & Publish Your Book For Free
One wonderful journey by Bhalodiya Himam
This is a fictional adventure story of Adhvik and his friends touring India. Despite many obstacles, many twists and turns, will they be able to complete the journey challenge? What difficulties will come? Will Adhvik and his friends be able to cross it? You will also like to know about the different states of India and its culture along with the characters of the story as well as the purpose of knowledge with the entertainment of the author through this adventure story will be meaningful. For what reason does Adhvik and his circle of friends face such a hard challenge? Find out the answer to all these mysteries in this wonderful adventure story.
Online Prem by Saraiya Bharat Rama Bhai
Through this book I want to give a message to today's young generation that it is turning towards online love according to today's age which is totally wrong. And it's about how mobile damages their lives and the regrets of hurting their parents and marrying them. It is about people falling in love after seeing each other's photos on their mobile phones and talking through text messages for a few days and finally regretting it. The whole novel is explained by the character of Avni and Aman.
The Game of Impala by Dhaval Dave
The book "The Game of Impala" is about Game Kho-Kho. The book having information about games and some the rules and regulations. The book includes Ground marking, position, policy, regulation on different situations, team planning, history about game, types of awards. Also includes how to react in a playing situations. Instruction also for Players, Coaches, Managers, and officials. A motive to write this book for local players, who do not understand properly due to language issues. The book having a very easy explanation to learn without any support. The player solves their difficulties from this Gujarati language book. Hope everyone likes this book.